Authorities allege that Michael Fitzpatrick of Malden assaulted an Arlington woman at gunpoint in the Dock Square garage yesterday at 1:00 in the afternoon and took off in her SUV. Apparently this incident was witnessed by two other women who sheltered the victim and got her out of the garage. Fitzpatrick made his escape from the garage by driving through the gate. He later drove into a taxi cab fleeing that scene as well. Fitzpatrick got into another accident in the North End and was apprehended shortly thereafter. A loaded firearm was recovered at the scene and Fitzpatrick was positively identified by the first victim. At arraignment it was learned that the defendant had been drinking a half gallon of vodka per day. This case is being prosecuted in the Boston Municipal Court. Fitzpatrick also has a case pending in the Quincy District Court.
Read Article:
http://www.boston.com/news/local/breaking_news/2010/02/man_arrested_af_5.html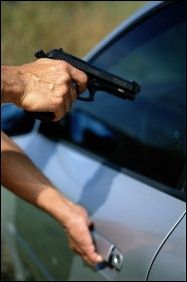 Massachusetts Carjacking Lawyers
The law on Carjacking in Massachusetts is set out in M.G.L. ch. 265 Secton 21A. It states that anyone who steals or tries to steal a motor vehicle by putting a person in fear or by assaulting the person is guilty of Carjacking, a felony. If the crime is committed with a firearm there is a minimum mandatory five year state prison sentence that must be served. Given his criminal history and the nature of this offense it is likely that the district attorney will be looking for Fitzpatrick to serve some serious state prison time. A possible defense or certainly a mitigating factor is the quantity of alcohol that the defendant had ingested at or near the time of the crime.

If you have been charged with Carjacking or any crime call the Law Offices of Stephen Neyman right away. We can be reached at 617-263-6800 or you can contact us online.