At 4:00 a.m. yesterday morning police responded to 27 Washington Street in Lawrence, Massachusetts for a call regarding commotion at that address. A patrolman knocked on the door waiting for someone to answer. While doing so he saw the defendant, Sandy Santos placing "something" underneath a seat cushion. The patrolman was then permitted to enter the home. When he did he looked under the cushion and saw a loaded .38 caliber handgun. Santos was arrested and charged with Carrying a Firearm, Unlawful Possession of Ammunition and Possession of a Loaded Firearm. The report states that the gun is being tested for fingerprints and DNA. The case is being prosecuted in the Lawrence District Court.
Read Article:
http://www.eagletribune.com/punews/local_story_068001139.html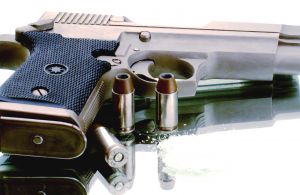 Massachusetts Gun Case Defense Lawyer
The charge of Carrying a Firearm carries with it a mandatory minimum eighteen month house of correction sentence. However, the statute prohibiting that activity, Massachusetts General Laws Chapter 269 Section 10(a) exempts such conduct where the activity occurs at home or at work. Here, the article states that Santos was at home at the time of the incident. I am also curious as to why the gun would be tested for fingerprints. The article states that the officer saw Santos place the gun underneath the seat cushion. Why then would it be necessary to have it printed or tested for DNA evidence. It is also suspect that Santos would offer entry to the officer. There was no search warrant. There was no probable cause to arrest. The officer had no legal right to enter the property. Why then would Santos open the door and let him in? This case is full of issues that bode well for the defense.

Stephen Neyman defends Firearms Cases in Massachusetts regularly. Massachusetts Gun Laws are strict and there is often a mandatory minimum sentence associated with a conviction. If you have been charged with Gun Possession in Massachusetts call our office at 617-263-6800 or contact us online.