A Lynn, Massachusetts police officer who was on Essex Street observed a car with five people traveling near him. He detected an odor of marijuana coming from the car. He followed the car and noticed that it did not have an inspection sticker. He pulled it over and questioned the driver, Toniea Coleman. Coleman was told that she was being stopped due to the odor of marijuana. All occupants were asked to get out of the car. Once they did they were searched. One of the passengers, Kerlin Aubourg had a large amount of cash in his possession. The rear passengers, Andre Sanders, Ali McMillan and Tyla Monteiro were taken from the car. Sanders was found to be in possession of marijuana. Monteiro was found in possession of marijuana. There were open containers of alcohol in the car. A loaded firearm was found in the trunk of the car. Seven grams of crack were found in the car as well. Authorities allege that Monteiro admitted that the gun belonged to him. He has been charged with Possession With Intent to Distribute Class B, School Zone Violation, Possession of Ammunition and Possession of a Firearm. Monteiro was also found in possession of additional crack cocaine. The others face the same charges. Aubourg is from Malden, the rest are from Lynn.
Read Article:
Lynn, Massachusetts Drug Possession, Distribution, School Zone, Firearm Lawyer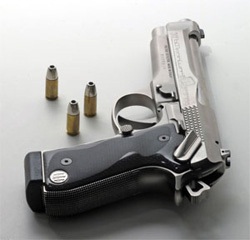 Search and Seizure Lawyers In Massachusetts
Since the new marijuana laws went into effect there has been a considerable amount of litigation centering on what now constitutes a lawful stop when police officers smell marijuana. Possession of one ounce or less of marijuana is no longer a crime in Massachusetts. It is a civil infraction punishable by a fine of one hundred dollars. Thus, the question now is what right do police officers have to stop a car simply because they smell marijuana. Police must have a reasonable suspicion to stop a car and question its occupants. The officers must have specific and articulable facts that the people committed a crime. Here, it is questionable as to whether or not an officer can truly smell burning marijuana in a traveling vehicle. Supporting that contention is the absence of any evidence showing that marijuana had in fact been smoked. Also in this case there were five people involved. The article does not make clear who the officer suspected of criminal activity. It is unlikely that this stop will survive constitutional scrutiny as to all defendants, particularly if all defendants Hire an Experienced Massachusetts Criminal Lawyer.

Contact us at 617-263-6800 if you have been in a car that was stopped by the police and you have been searched. We can be reached at all times either by telephone or online.