The Lawrence Eagle Tribune reports that police in Haverhill are seeking the help of the public in identifying two suspects who allegedly robbed an unarmed pedestrian at gunpoint. The victim, a 34-year-old man, was robbed of $80 dollars in cash, his credit cards and some other personal papers shortly after 5:00pm on a Monday while walking along Chick Avenue in the Mount Washington area. One of the suspects is described as a young adult, with a distinctive teardrop tattoo under his left eye, while the other suspect, the one who held the gun, is described as having a reddish-brown beard. Both men are over six feet tall. Police are asking that anyone with information about the suspects or the robbery to contact them immediately.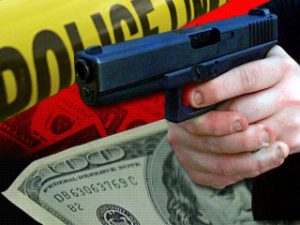 Armed Robbery Criminal Defense
Under Massachusetts law, for an armed robbery conviction the prosecution has the burden of proving that the 1.) defendant was armed with a dangerous weapon, 2.) victim was in a state of fear that the defendant would physically hurt or use force against the victim, 3.) defendant took the victim's possession with the intent to steal, and 4.) defendant took the victim's possession out of the victim's control.
If you have been accused of armed robbery, you should immediately contact an experienced criminal defense attorney who can provide you with the strongest and best possible defense to your charges. These types of cases can be complicated. You'll want to refrain from talking to the police until you can discuss your situation with a criminal defense attorney first.
Armed robbery is a serious crime, carrying serious penalties, such as life behind bars. An experienced Massachusetts criminal defense attorney will build a solid defense that casts doubt on whether the prosecution has proven each and every element of the crime beyond a reasonable doubt. Witnesses may be unreliable, there could have made an incorrect identification of the defendant, or the witnesses may lack a clear recollection of the robbery. Demonstrating that a key witness cannot recall the details of the robbery, cannot identify a suspect as the assailant with a degree of certainty, or is unsure or inconsistent about facts, can overcome the prosecution's burden of proof and can mean the difference between getting a criminal conviction for armed robbery and an acquittal. There are also lesser included offenses to this crime,  such as larceny from the person, that do not provide for as severe a sentence upon conviction.
Also, your defense counsel might move to suppress evidence in your case if the evidence has been obtained through an illegal search and seizure, or improper protocol was followed in collecting and storing the evidence in your case. Even the suspected weapon can be suppressed. Additionally, if there is any indication that the police improperly influenced the witnesses to identify a suspect a motion to suppress the identification must be filed.
Contacting An Experienced Massachusetts Criminal Defense Lawyer