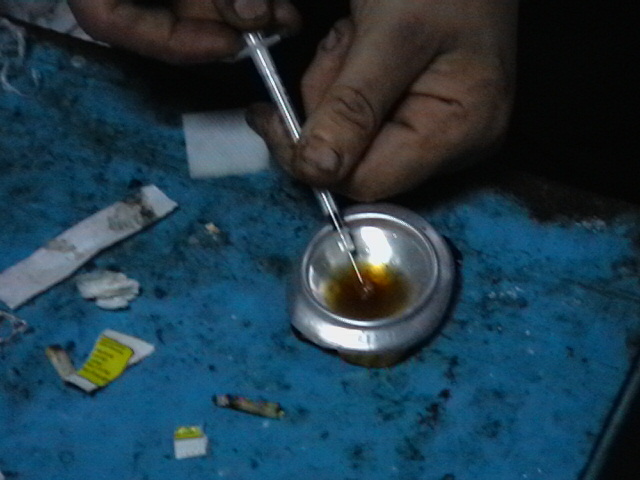 Two days ago Lawrence, Massachusetts police in an unmarked cruiser saw an Infinity driving through Prospect Hill. Inside they saw a man and a woman. A second car containing four people met up with the Infinity, pulling alongside of it in a manner where the drivers of each vehicle could physically touch one another. This happened around two o'clock in the afternoon. Officers reported that they could see the drivers of both vehicles make an exchange, hand to hand, that they believed to be a drug transaction. Once the cars separated surveillance teams stopped both cars. The occupants of the Infinity admitted to purchasing drugs. The female occupant, Michelle Lamothe confessed to secreting the drugs in her bra. She then produced the substance and surrendered it to the police. It is Heroin. Lamothe has been charged with Possession of Heroin. The driver, Gerry Anthony (a pseudonym) was also charged with Possession of Heroin. A search of the other car, the alleged seller's car revealed seven individually packaged bags of heroin and some cash. Arrested in that car were Manuel Berroa. He was charged with Possession With Intent to Distribute Heroin, a Class A Substance, a School Zone Violation and Distribution of Heroin. The other three occupants of the car were charged with Knowingly Being Present Where Heroin is Kept. The cases will be prosecuted in the Lawrence District Court.
Lawrence, Massachusetts Drug Crimes Defense Law Firm
The facts of this article suggest that the defendant was improperly charged. Lamothe had the heroin in her possession. There is no indication that the two intended to share the drugs. Conversely, the article suggests that the quantity in Lamothe's possession was consistent with personal use. In this case one would think it was for her personal use otherwise it would be in Anthony's clothing or hands. Whereas there is no Conspiracy charge the charges against Anthony might either be dismissed or resolved in a way where he will not have a criminal record provided he does not already have one. The case against Berroa is a bit more difficult for the prosecution to prove. Absent testimony from Anthony or Lamothe proving that Berroa distributed the drugs to Anthony would require speculation on the part of the jury. An instruction always given to jurors prohibits them from speculating. The district attorney has to prove his or case beyond a reasonable doubt. The charge of Knowingly Being Present Where Heroin is Kept is one that I have always had a problem with. Massachusetts case law makes clear that "presence only" at the scene of a crime is not enough to sustain a conviction for the underlying crime. However, the law making it a crime to knowingly be present where heroin is kept cuts against this. A challenge to the constitutionality of that law is always a good idea.

Our office is committed to defending the accused. If you are in trouble you need to contact a lawyer right away. Call us at 617-263-6800 or send us an email. We will fight for you.