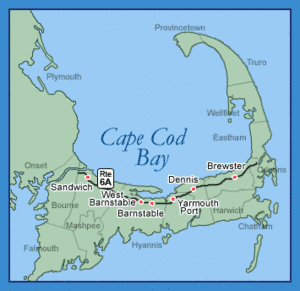 Today's Portland Press Herald reports that two Massachusetts residents have been apprehended in Maine and will be brought back to Falmouth to face felony charges. Leah Wiinikainen and David Byron were allegedly involved in a shooting over the weekend. Details of the Massachusetts case have not been released however Byron has been charged with assault with intent to murder, assault and battery by means of a dangerous weapon, unlawful possession of a firearm and more. Wiinikainen was charged with being an accessory after the fact. This post examines the crime of accessory after the fact, when it is prosecuted and some defenses to the charge. 
The Law:  Accessory After the Fact
Massachusetts General Laws Chapter 274 Section 4 makes being an accessory after the fact a felony in Massachusetts. In sum, anyone who helps the principal or someone who is an accessory before the fact, escape, flee or avoid trial is guilty of this crime. There is a possible punishment of seven years in state prison for anyone convicted under this statute. There is a unique defense to these charges. If the accused is the spouse, child, parent, grandparent, grandchild, brother or sister that person cannot be convicted of this crime. Here is another interesting provision of that law. The person raising that defense can testify at exclusively as to that relationship without being subject to cross-examination.
Prosecuting Accessory After the Fact in Massachusetts
Almost any time someone leaves the area of a crime with the suspected culprit that person is charged with being an accessory after the fact. In my opinion the district attorney's decision to prosecute the crime under those circumstances is speculative at best. For example, take a look at the facts in this case. What specifically did Wiinikainen do to help Byron avoid prosecution? Simply being with him during his flight is not enough. What evidence demonstrates her intention to hinder apprehension? Nothing according to this article. Rather, because she was with him, and he is a suspect in a shooting, and she left for Maine with him there is speculation that she has committed this crime. This should not be enough to sustain a prosecution.
How Can This Case be Defended?
Wiinikainen might consider a motion to dismiss. Absent someone coming forward with evidence that she intended to help Byron get away a dismissal might be in order. Furthermore, how is the prosecution sure she had knowledge of what Byron is alleged to have done? Moreover, the prosecution must prove that Byron committed the crime before Wiinikainen can be considered an accessory after the fact. In other words, if, at trial, Byron prevails than as a matter of law Wiinikainen cannot be convicted. If Wiinikainen has not talked to the police or anyone about this case and has not stated that she 1) knew that Byron was suspected of committing these crimes and 2) that she was helping him avoid being caught, proving this case will be very difficult.
Cape Cod Defense Lawyer
Hiring the right lawyer is important to anyone charged with committing a crime. For nearly thirty years Attorney Stephen Neyman has been defending the accused throughout the Commonwealth successfully. The time to hire a lawyer is now. Call us at 617-263-6800 for help with your criminal case.