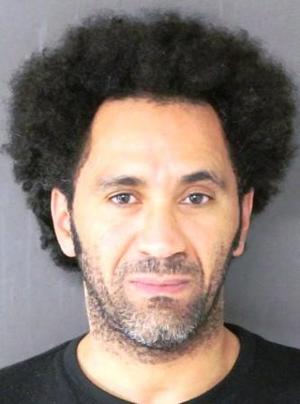 Just before 4:30 a.m. Monday, Brockton, Massachusetts police received a phone call from a man stating that he had been held captive at gunpoint. The "victim" stated that he went to the home of Emanuel Dossantos. Once he attempted to leave the home Dossantos held him at gunpoint. He was able to escape and call the police. He did not need or seek any medical attention. While the responding officer was interviewing the victim Dossantos came out of a nearby apartment. He was arrested. The police then applied for an obtained a Search Warrant. Later that day a search of Dossantos apartment was conducted. Inside the police found two guns and some cocaine. Dossantos was charged with Armed Robbery, Possession of a Firearm During the Commission of a Felony, Assault and Battery, Kidnapping, Assault and Battery by Means of a Dangerous Weapon, Possession of Ammunition and Possession With Intent to Distribute Class B. The case is pending in the Brockton District Court. That nature of the charges permits the district attorney to prosecute this case in the Plymouth County Superior Court.
Read Article:
Criminal Defense Law Firm in Brockton, Massachusetts
Any Experienced Massachusetts Criminal Lawyer reading this article will tell you the same thing. There is something incredible about the victim's allegations. It is highly unlikely that the events as described by the victim unraveled as suggested or even at all. This looks very much like a drug deal gone bad or someone making allegations against a competitor or enemy. Now how do we know that? Consider the following questions. What was the victim doing out at the defendant's home at 4:30 in the morning? Why didn't anyone see any injuries on the victim? How was the victim able to escape from Dossantos while being held captive at gunpoint? Does the victim have a record for violence? Does the victim have a record for drugs? Are there any phone records showing the victim making calls at or near the time of the alleged illegal activities?
Here is something else to consider. If Dossantos had roommates the district attorney might have difficulty establishing Dossantos' possession of the drugs and guns as opposed to someone else's possession. I would imagine that for many reasons the victim in this case will not testify. He likely has a Fifth Amendment privilege that will enable him to avoid having to testify. That leaves only the Possession With Intent case against the defendant and absent some corroborative links between Dossantos and the substance a Motion to Dismiss or a dismissal on a request for a required finding of not guilty might work here. The case against Dossantos might not be nearly as bad as one might think at first glance.

Our office handles cases like this one throughout Massachusetts. To speak with one of our lawyers call 617-263-6800 or send us an email. We are confident that we can help you defend your criminal case.