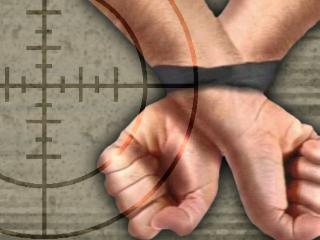 Michael Holyoke of Bridgewater, Massachusetts is facing several charges involving an alleged incident of Domestic Violence against his former girlfriend. The Lynn Item reports that the woman's neighbor contacted police after hearing a man and woman fighting with one another. The woman also asked the neighbor for help. When the police arrived the two were still verbally fighting. The woman reported to the police that Holyoke punched her in the head several times and threw her into glass shower doors in the bathroom. He then blocked her escape route and smashed her cell phone after she tried to call the police. It was also reported that the victim stabbed Holyoke in the face and neck with a steak knife. Holyoke has been charged with Kidnapping, Intimidation of a Witness, Domestic Assault and Battery and Possession of a Class C Drug. The case is pending in the Lynn District Court. The case might be prosecuted in Salem in the Essex County Superior Court. The woman had previously taken a Restraining Order out against Holyoke.
Read Article:
Massachusetts Domestic Violence Defense Lawyer
This appears to be one of those cases that will remain in the District Court. Even though the charges are serious cases of this nature only get prosecuted in the Supeior Court if there was substantial physical harm to the victim or if the defendant has a lengthy criminal record and presents a serious danger to the victim or the community. The bail in this case, five hundred dollars suggests the strong possibility that the prosecution will continue in the Lynn District Court. Stab wounds suffered by the defendant might have an impact on Holyoke's Massachusetts Criminal Lawyer's approach to defending this case. That evidence might also be indicative of who actually was the first aggressor.

The Law Offices of Stephen Neyman has been defending people accused of all crimes including Domestic Violence for years. Call us at 617-263-6800 or contact us online to discuss your criminal matter. It is always advisable to start your defense immediately.